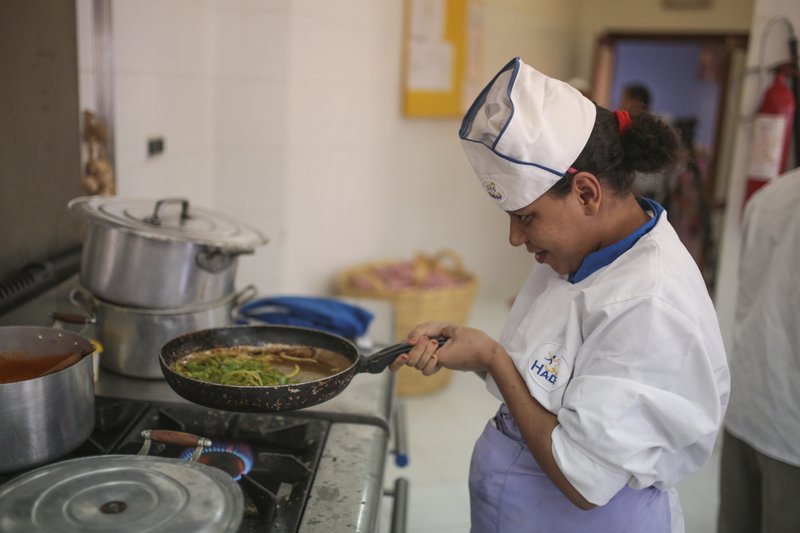 RABAT, Morocco (AP) — A remarkable restaurant in Morocco's capital offers its guests the opportunity to enjoy a full, fresh meal for just $6. But what's most remarkable are its chefs: all are developmentally disabled.
Moroccan salad, grilled meat, Basque rice and lemon mousse are on the menu of the day at the restaurant, part of broader efforts by the Hadaf association that runs it to integrate disabled youth into Moroccan society and the job market, and change perspectives on disability.
"At first it's not an easy thing to teach them cooking, but day after day, thanks to their desire for learning and their passion, they are really developing capacities in the cooking field," explains Nora Hachami, a specialist trainer at Hadaf.
Since its opening in April, the restaurant has enjoyed very favorable reviews. Its customers say they appreciate the quality of the food, the low prices and the commitment behind its creation. It was created in partnership with a Moroccan state project that aims to improve the economic and social conditions for the poor.
Twelve young disabled chefs work in the kitchen and prepare dishes for about 100 people, supervised closely by trainers, and disabled servers wait on customers. Clients from the public eat in one room, while beneficiaries of the association and their teachers eat lunch in a cheerful atmosphere in the Hadaf center's canteen.
"We are facing lots of challenges in this work, but it's not the disability itself," Hachami said. "We are trying to simplify the way we elaborate each menu, according to their capacities."
Hadaf supervises 85 people suffering from moderate or mild developmental disabilities, many of whom come from disadvantaged backgrounds.
"It all started with my daughter, who has a mental disability," says Amina Mseffer, president of the association. When she could not put her daughter at school because people were scared to have a disabled person with the other children, Mseffer said, she decided to put her in a special institution. But this was expensive, and stops when the person is 21 years old.
So she joined forces with relatives and friends and in 1997, they created Hadaf, which means "goal" in Arabic, but also stands for "Association of parents and friends of mentally disabled people."
Help and donations have come from official institutions, companies and even the Moroccan king and private donors, including nearby mosque-goers.
In 2005, Hadaf set up a social-professional center in the Hay Nahda neighborhood of the capital Rabat, housing various workshops and courses including jewelry making, sewing, decorative painting and carpentry.
In the restaurant kitchen, young people are busy working on crepes.
"I love cooking," says Saad Sahel, a 23-year-old chef who recalls helping his family in the kitchen before coming to the Hadaf center, where he takes part in both practical work and studies theory.
"I'm preparing salads, rice, desserts, pastries, all kind of things," he said. He hopes "that one day (he'll) be able to do something" with his life.
While Mseffer celebrates her group's progress toward integrating the disabled, she wants authorities to get more involved.
Moroccans with mental and developmental disabilities are almost exclusively assisted by charitable associations. According to 2014 figures by the National Union of Associations Working in the Field of Mental Disability (UNAHM), of the 347,000 people with mental disabilities in Morocco, only 10,000 are getting schooling or other help to assimilate into society. Half of them are supervised by charities, and the other half are in integrated classes financed by the state.
A bill currently going through parliament "will contribute to the strengthening and regulation of social welfare institutions for people with disabilities," said Rachid El Guenouni, who works on the rights of people with disabilities at the Ministry of Family, Solidarity, Equality and Social Development. And he said another bill aimed at social workers will "strengthen the care of people with mental disabilities in Morocco."
Original article from: www.apnews.com